11/09/2018
Developing A Legend – KTM 790 Adventure R Coming To Life
What does it take to create a legendary motorcycle that is loved by many?
The yet to be released KTM 790 Adventure R has to be one of the most hotly anticipated motorcycles for 2019. Read my first impressions of seeing the prototype here. Over the past couple of years I've observed the development of this new KTM from a close distance. What I have found fascinating is seeing this bike evolve from where it was a simply business directive from KTM headquarters, perhaps no more than KTM CEO Stefan Pierer saying "We need a mid-capacity adventure bike", to being a close-to-production motorcycle that promises to find it's way under the backside of many adventure riders.
During our recent Maschine road tour of Europe in June 2018 where we took part in the KTM Adventure Rally in Sardinia, many pieces of the development puzzle fell into place for me after seeing the 790 prototype first hand.
Even though the 790 Adventure R hasn't been released released to the public yet, I thought it would be interesting to have a look at the timeline of this motorcycles development and try to paint a picture of just how long is takes to develop a new from the ground up motorcycle.
*I preface all of what is written here as my own personal observations about this bike. None of this info is KTM official info so don't shoot me if any of it is wrong! I'm merely an interested observer.
Research & Development Process
I've worked around the motorcycle industry for many years and I've always been fascinated by the research, design and development cycle of creating a new motorcycle. From 1996 – 2003 I worked with Honda MPE Australia and the last job I had there was in Motorcycle Business Planning. Basically one of my job roles was to analyse and feed information on the Australian motorcycle market to Japan.
During my time there I watched with interest the behind the scenes development of many bikes:
I remember a team of Honda Japan engineers coming out to Australia with a prototype CBR1100XX Blackbird for high altitude testing during our summer.
I remember a study being done of the CT110 "postie bike" that Australia Post used for decades and the Honda engineers being gob smacked at how the bikes were treated by the average postal worker! Pannier bags loaded to the hilt with mail and the bikes being launched at square-edged gutters with little regard for how the suspension or wheels would cope.
I remember the starter motor and engine cases being ripped off a TRX400EX quad and being transplanted into an XR400R to prove to Honda Japan how bloody easy it would be to add electric start to Australia's most popular (at the time) motorcycle to extend it's sales life.
I remember walking into a Yamaha dealer showroom with a wad of cash supplied by Honda Australia to covertly purchase a Yamaha motorcycle straight off the dealer showroom floor and shipping it back to Japan so Honda could see how Yamaha did ADR compliance locally. That was an interesting day at work!
I remember seeing a future models timeline document that mentioned a CRF650X. It was supposed to be an updated XR650R with electric start. I'm still waiting to see that bike eventuate….
Never in that time though did I see the level of depth of research that KTM have gone to with the 790 Adventure R. In particular getting direct feedback from customers right through the process.
Let's have a closer look at the timeline of development I know of for the KTM 790 Adventure R.
KTM Parallel Twins Coming?
August 2015 
In August 2015 some spy photos "leaked" somewhat confirming there was a mid-capacity KTM model range coming. The photos showed a very early prototype of a Duke naked bike.
What was clear from these photos was a parallel-twin engine was the chosen configuration rather than a V-twin engine as KTM had been known to use for the past several years.  The use of a parallel-twin was a bit of a surprise for some but as we would later see the benefits of more compact packaging of the inline engine allows for great scope in the "packaging" of a new model.
KTM's boss Stefan Pierer had confirmed in late 2014 they were working on a new range of mid-capacity engines but at that time he said they would be V-twins. Was this a deliberate diversion tactic or was it just that early on in development that the engine configuration hadn't been decided?
What I would really love to know is how far back was the decision made to begin work on this project? I still don't have an answer for this.
https://www.motorcyclenews.com/news/new-bikes/2015/august/ktm-parallel-twin-800-spied/
https://www.motorcyclenews.com/news/2014/november/ktm-plan-new-v-twins/
KISKA Comes Downunder – KTM Australia Rallye 2016
March 2016
I was fortunate enough in late 2015 to be asked by KTM Australia to help them with the planning and route coordination of their new KTM Adventure Rallye. This event was the start of a renewed push into the adventure market by KTM Australia and indeed KTM globally. In March 2016 the first Rallye event had about 120 KTM riders arrive in Jindabyne NSW for a week of adventure in the Victorian and New South Wales High Country.
A couple of special guests from Austria, Reno & Anita, were present at the event who were introduced as being from KISKA design and doing research for KTM HQ on the adventure market in Australia. All the Rallye riders were told they were gathering data and information on what riders would want in their ideal adventure bike. I remember Reno & Anita walking around all week studiously talking notes, interviewing riders, sticking a GoPro in all kinds of places to dig deep into what it was going to take to build the ultimate adventure bike for Aussies.
I also remember talking to them as the week progressed and them being somewhat horrified at what the bikes were being put through! This wasn't adventure riding as Europeans know it, this was enduro!
Riding around Europe in 2015 and 2018 on our Maschine tours it has become obvious to me that Australia is somewhat unique in how much off-road riding we use our adventure bikes for. Ride around the Alps in Europe and it seems every 2nd bike you see on the road is a BMW R 1200 GS. Adventure bikes are extremely popular in Europe. But you soon realise that the opportunities for proper off-road riding in Europe are few and far between so most adventure bikes over there are likely to have road tyres fitted other than knobbies.
During this event I used the term "travel enduro" to try and better describe to the KISKA team how many Australian riders really use their adventure bikes in Australia. While in Europe it may be quite difficult (or even illegal in some countries!) to go off-road, in Australia it's almost more difficult to avoid dirt roads with many cool sights at the far end of rough dry and dusty tracks. We tend to more so treat these bikes, sometimes costing more than $20k, more like an enduro bike throwing them into all sorts of terrain.
It's A Sign!
March 2016
On the last night of the 2016 KTM Australia Rallye Reno & Anita had one of the corflute promo signs from the Rallye and they asked everyone to sign it so they could take it home as a memento. Now Aussies being Aussies, at some point someone had the idea of writing a "wish list" on the back of the sign of what our ideal KTM adventure bike would be.
The significance of this sign would come to light much later on…
The way I understand it is that after this trip the KISKA guys took this sign with them back to their design studio in Austria and at their next design meeting announced they would basically have to scrap where they had gotten to with some parts of the project and rethink their approach.
It was made obvious to them in Australia that the current crop of adventure models left a lot to be desired by the more hard-core Aussie riders when it came to off-road riding.
800cc Spy Photos Abound
March, August and December 2016
Probably the first real sniff the general public got of a new 800'ish cc adventure model coming was spy photos being released late 2016.  As is typical prior to a new model release, many media outlets posted photos taken from a long camera lens of a blacked-out test mule on public roads. How intentional it is by the manufacturers that the public sees these prototype images when they do we may never know!
Looking back at these early photos is interesting because you can see some design elements, like the rear end design and extended headlight mounting, have remained while other ideas have been refined further. One example is the fuel tank layout here is somewhat more traditional whereas the latest prototype we've seen has the fuel load carried way low down near the riders feet.
"The Scalpel" – EICMA 2016
November 2016
The big international motor shows are usually when the cloaks are first pulled off new models by the manufacturers.  Come EICMA Motorshow in Milan Italy November 2016 and KTM did indeed pull the cloak off a 790cc bike but it ended up being a naked Duke, not the adventure model that many of us were hoping for.
Prior to this EICMA event I had heard a couple of KTM staff talking in vague terms about some future models they had seen recently on a visit to Austria. One of little snippets of info I heard was pictures of a concept bike they had seen referred to as "The Scalpel". Turns out they were referring to the 790 Duke prototype which was unveiled to the public at EICMA. The promo video that was teased of this model showed a svelte naked bike being thrashed around a race track looking & sounding horn!
Although it may not have been the adventure model many of us were hoping to see, it was cool to see the engine that would be powering it. I was also really excited to see how aggressive they were portraying the model and it's power delivery. This is exactly what I wanted in my KTM 790 adventure bike!  When I first rode a KTM 1190 Adventure R in 2015, one of the first things that struck me was that it put the fun back into riding for me. My previous 800cc adventure bike was very capable but also quite bland and unexciting. I was keen to ride a mid-capacity lighter weight adventure that still had some animal character to it. The "Scalpel" was giving me hope!
KTM Adventure Launch 2017
May 2017
In May 2017 KTM Australia hosted the Asia Pacific media launch of the new 1090 Adventure R & 1290 Super Adventure R range. It was here that I got the opportunity to meet many KTM staff including Gustav Greiner, the Product Manager for this new V-twin adventure range.
Again, I heard some vague inside gossip at this event that a couple of KTM staff were talking about some future models. In particular, they were discussing a low slung fuel tank. Knowing what I know now, I'm guessing they were talking about the new 2018 factory Dakar Rally bike and maybe the 790 Adventure.
It was also around this time I heard noises about how the 790cc bike might have been launched as a "soft" adventure bike, built more to a budget to suit intermediate level riders. The logic being their newly minted 1090 & 1290 V-twin models would hold position as their premier top-of-the-range models for those riders that simply want the best of everything and the 790 should fit in nicely as milder mid-specced models. I cringed when I heard this! This isn't the case at all as far as I'm concerned. It was really obvious at the 2016 Australian KTM Rallye that most riders there wanted a hard-core bike that was lighter; they were prepared to forego the power output and accompanying weight of a big V-twin for light weight and agility. However, riders weren't prepared to sacrifice having quality suspension, heavy duty wheels and some other key features like long fuel range.
Thankfully, after seeing the latest prototype it looks like the design objectives were kept more in line with what Aussies asked for – KTM haven't scrimped on fitting quality suspension to the latest prototype it would seem.
EICMA 2017
November 2017
Now we are getting there!
At EICMA 2017 KTM finally revealed the prototype 790 Adventure for all the world to see. The bike seemed quite far along the development path but the word from Mattighofen was that this was a concept bike and as such was still some way off and frankly, some people were mad about that!
This latest prototype looked so close to the production bike we were all hoping for. But we were told we would be waiting at least another year.
Likewise Yamaha have followed a similar reveal schedule with their also yet-to-be-released T7 Tenere. Now yes I may rightly be accused of drinking the orange kool-aid lately, but to me it just seems the T7 is not going to be the hard-core lighter weight adventure bike that many punters are looking for. A recent poll on a Facebook group (Motorcycle Adventurers) in October 2018 showed that 66% of riders thought the KTM "will have a bigger impact on the market" over 34% for the Yamaha.
That's all I'm going to say about that!
KTM Australia Adventure Rallye Outback Run 2018
June 2018
At this years Australian KTM Adventure Rallye, Kiwi Chris Birch came over as a special guest in his role as KTM Adventure Ambassador. During the Rallye Birchy told me he had ridden the 790 Adventure R prototype during some recent testing. He revealed a few details about the riding impression he had and it started to tick all the boxes for me.  Chris explained the bike he rode was basically "Version 3" which my understanding is the final prototype before going to a pre-production model. No doubt there are multiple variations on prototypes though each time they go out for testing. Initially I had heard we might be seeing the prototype in Australia at the Rallye but I had to wait another couple of weeks for my first look.
If you want to see just how Aussies treat their adventure bikes, watch the full length event feature of the 2018 KTM Australia Rallye on YouTube here:
First Sighting – KTM Adventure Rally Sardinia Italy 2018
June 2018
Just 4 days after the Australian KTM Rallye finished in Alice Springs I was on a plane to Munich to begin our Maschine Pinnacle Passes & Sardinia tour of Europe.
This was the first chance for us to see the 790 prototype in the flesh. I had been told in the lead up that KTM would have the prototype on display for us and this is what I was most looking forward to about this event.
Our group collected hire bikes from Austria and spent a few days riding them through the Austrian and Italian Alps before boarding a ferry to the Italian island of Sardinia, nestled in the middle of the Mediterranean Sea.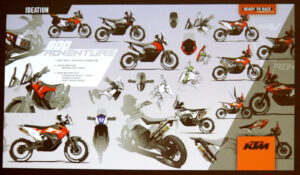 On the 2nd night of the Sardinian Rally KTM gave us all an exclusive preview presentation on the bike and had the actual prototype on display for us to touch and feel. Hooey! This felt really special to have some key details revealed direct to customers before members of the press had.
The fact that KTM and KISKA listened intently to customers was reinforced for me just before the presentation at the Rally when a random guy walked up to me out of the crowd and said something along the lines of "You're Nick from Australia right?" The puzzled look on my face prompted him to introduce himself as Jason from KISKA. Jason explained he had seen me making some comment about wheels in some of the video that Anita from KISKA had shot in Australia 2 years ago. It's become clear to me that KISKA really did listen to riders and try to accommodate all of our wants and needs. That is pretty rare. We would meet with Jason again a week or so later at KISKA HQ in Austria.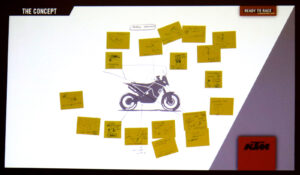 During the evenings presentation one thing in particular really struck me as they showed how compact the parallel-twin engine is compared to other engine configurations, both from KTM and their competitors. This helps with "packaging" of other elements of the bike which I will get into below.
Of course, everyone wanted to know:
What does it weigh?
How tall is the seat height?
How much power does it make?
Unfortunately KTM are still being cagey about these crucial details. Adriaan Sinke the KTM 790 Product Manager was very open in saying "You can ask me anything." We soon found out though that although he invited us to ask, he wouldn't necessarily answer our questions! Reality is, some of these specs were probably still to be fully finalised.
In the dimly lit room the dirty black 790 didn't look all that drool worthy to be honest. We were able to have a 10 minute close up look over the bike at the end of the KTM presentation but they wouldn't quite let us sit on it. Later that evening a certain Kiwi may or may not have let slip to me where the 790 was being garaged for the night. Really it wouldn't have taken a CIA spy to uncover it though as it was parked in a hotel underground garage in plain sight with a whole bunch of other vehicles around!
Check out our "sneak peak" video as we went on the hunt for it!
On the 3rd night of the Rally KTM treated us to a beachside dinner where the 790 was on display again. This time it had been washed after Birchy had ridden it all day and in the light of day it looked a lot prettier twinkling away in the Sardinian twilight. Adriaan the KTM Product Manager was sticking close to his baby and asked Trudi and myself some very pointed questions. He was particularly interested in Trudi's ability to sit on the bike comfortably and reach the ground. Due to her shorter stature this is something Trudi has always struggled with.
One key design aspect that struck me when I took a close look at the bike is how much the rear shock is laid forward to a more horizontal position. Where most rear absorbers sit quite vertical, maybe 10 degrees off, the 790 shock is canted forward more like 45 degrees. This is where the compact parallel-twin engine has allowed more centralised packaging of other components, like the shock, which then permits side benefits of things like attaining a lower seat height. Bet you've never really given too much thought of the engine affecting seat height huh?
This is one example of how KTM and KISKA have strived to achieve nirvana with this product design. Mission accomplished?
Riding The Scalpel – 790 Duke 
June 2018
For our Pinnacle Passes & Sardinia tour this year through Europe, we had arranged to hire a fleet of KTM motorcycles from a supplier in Austria. Due to the standard seat height of every model in KTM's Adventure range, my wife Trudi was forced to choose a 790 Duke as her mount. I say "forced" but the reality is that it was damn near the perfect bike for carving up the Alps and indeed Sardinia's grippy tarmac, apart from the little bit of dirt we did on the last day!
I stole the Duke out from under her a couple of times during the trip and in fact did a little video review of it which I will post here later.
What I was most interested in was seeing how the 790cc engine performed in this bike. Reality is it looks like there are very few parts that will be common between the Duke and the Adventure models. The engine is however shared, but of course will be been retuned a little for off-road work delivering a more linear power curve rather than the Duke's quite punchy delivery.
The Duke is ultra nimble and really felt to me like a 300cc motorcycle to sit on. But lordy does that engine sing! It's a sweet little engine and promises to be an ideal size for adventuring.
The Dakar Connection
October 2017 & July 2018
Many manufacturers aspire to have their products associated with racing and more importantly winning races. There are no tougher motorsport races on the planet than Dakar. Period.
For those of you that follow the Dakar Rally religiously like me you would know that the KTM Factory Rally team unveiled an all new bike for 2018 Dakar in October 2017. After winning the last 16 consecutive Dakar's, KTM showed their determination in late 2017 to continue its domination of the event. A new KTM 450 RFR Dakar Rally bike was unveiled and it was first run in the Morroco OiLibya Rallye before lining up for Dakar in 2018 and winning KTM's 17th Dakar Rally title in the hands of Matthias Walkner.
https://transmoto.com.au/ktms-2018-dakar-weapon/
http://adbmag.com.au/editorial/gallery-dakar-ready-2018-ktm-450-rally/
Towards the end of our Machine European tour this year we were lucky to be hosted at Alpinestars headquarters in Asolo Italy. We arranged this exclusive tour through Monza Imports, the Australian distributors of Alpinestars. When we arrived at Alpinestars sitting there in reception was Matthias Walkner's factory KTM 450 RFR Dakar Rally bike.
Now I'm a sucker for a nicely set up race bike and in particular Rally bikes. The details on them are exquisite for a petrol head like me.
While I was ogling over the details of this Dakar beast I was struck by the similarities in design of a couple of key elements of both the 790 Adventure R and the new factory Dakar race bike.
Two key common design elements that really stood out to me were:
Low slung fuel cell
Aero treatment around headlight/cockpit tower
This fascinated me that apparently the same design team that had worked on the factory race bike had also worked on the 790 Adventure model that Joe Public would be buying. Very cool!
Two days later when we visited KISKA this link would become more noticeable.
My tip is that in the future we will see similar design language be introduced into the styling of other Adventure models in KTM's range, like the 1090 R and 1290 Super Adventure R. Carrying the fuel load low just makes a lot of sense and it's nice to have a family resemblance across a model range.
KISKA Design visit
July 2018
On the last day of our maschine European tour this year we were treated to a special visit at the KISKA design studio in Salzburg. This was something I had organised prior to our trip with Reno (the guy that came to KTM Australia's Rallye in March 2016) and with the assistance of Rosie from KTM Australia. Now this was a throughly fascinating visit.
First of all, who is KISKA you may well ask? KISKA is a design studio based in Salzburg Austria but with other offices in Germany, USA and China. Their slogan is "designing desire" and they basically position themselves to work with companies on product research, design and marketing. Amongst their clients list is Schuberth helmets, CF Moto, Atomic skis, Magura cycling components, Zeiss optics along with Husqvarna and KTM Motorcycles. KISKA's relationship with KTM stretches back over two decades and KISKA have apparently played a role in the design of every KTM since. That's a lot of cool motorcycles!
When we arrived at the studio we walked into a pristine and simple but elegantly designed industrial building, just as you would expect from an Austrian design firm. Lined up in the sparse entrance foyer was a couple of extremely cool looking Husqvarna's and a very fast looking KTM X-Bow that we got to try on for size. Reno soon came down and met with our maschine tour group and we reminisced about a great Aussie KTM Rallye in 2016.
Before going any further there was some serious business to attend to. Reno asked us all to sign a non-disclosure agreement and put stickers over the lens of our smartphones. The reason behind the secret squirrel stuff become obvious when Reno led us into the design studio where all the magic happens. It was quite a large space with various clay models and bikes draped with black cloths. To one side was several computers used for CAD and opposite were many mood boards showing design sketches of future models. I actually felt like we shouldn't have been in there and kind of looked over my shoulder to make sure a security guard wasn't about to tap me on the shoulder and ask for my papers! Sadly that's all I can really tell you about what I saw in that room….
Sadly, all too soon Reno dragged us away from the studio and ushered us into a meeting room where we met Jules the designer for the 790 project and a few other KISKA staff, including Jason who had introduced himself to me in Sardinia. Jason, as it turns out, is a copywriter according to his job title but there is more to it than that.
The KISKA team were keen to get some direct feedback from their target audience for this 790 model so they gave us a presentation on the model. During the presentation they were showing us an image of the 790 in its early design phase. I asked Reno what date that image would have been taken. I can't remember the exact month but was sometime in 2015. Now this image showed a bike frame, swingarm and parallel-twin engine with bodywork fashioned around it in modelling clay. This gives some clue that even 3 years ago there existed a parallel-twin engine that was already mature enough to have castings etc. to design a bike from.
During the presentation they also confirmed my suspicion of the Dakar race bike and 790 being designed with a common theme. In fact the same designer Jules worked on both models. That low slung fuel tank and headlight treatment being a common theme carried from race bike to production prototype. Cool!
I quizzed Reno about the promotional sign that had been signed by all the Aussies in 2016 at the KTM Australia Rallye because I had heard they still had it and in fact it had been pulled out in several design meetings to help them stay true to the cause. So Reno raced upstairs and grabbed the sign from behind Anita's desk. And there it was. A corflute promo poster for the 2016 KTM Australia Adventure Rallye that had been signed by a heap of names I recognised. I even found my own signature on there!
Flipping it over was a crude sketch of a bike along with the "Aussie wishlist to Austria" which read:
HD Fork Springs (meaning heavy duty)
Free bikes
150HP and 120kg OR 150kg and 100HP
Strong front rims
Bikes that work under underwater
1190R tank that comes off in 5 mins – air filter (current tank design makes it a pain to maintain the air filter)
500km range
USB charger
Rear suspension that does not bottom out on rear guard on 1190
So while some of this list may have been a bit of a piss-take (point number 5 was no doubt in reference to Reno who had played submarine commander on the last day and drowned a 690 while attempting to cross the Murray River at Tom Groggin!) there was still a strong element of truth to most of it. It's a bloody tall order.
At the end of the visit, Jules the designer presented us all with a small card that had some of his design concept sketches of the 790 Adventure R on it. This was a really cool memento and for me it is a keepsake I will cherish for what it stands for. I got Jules the designer and Reno the project manager to sign it for me so as many Aussies would say, that's going "straight to the pool room"!
We topped off that cool day by heading out into downtown Salzburg for a great dinner with some of the KTM & KISKA staff at a traditional Austrian beer hall. We ended up with about 20 people around the table from a bunch of different countries and had a great night with many schnitzels and beers consumed!
The Peoples Bike
This is the phrase Trudi used to describe the bike after seeing the 790 Adventure R prototype in Sardegna. What she meant by this was that we could see how hard KTM and KISKA had worked to make sure this bike really did live up to the wants and dreams of adventure riders. Well, Australian adventure riders at least. We really could see the influence in many ways of how they had listened to the Aussie riders and tried as hard as they could to meet the development goals.
It wasn't a case of a manufacturer building the bike they thought people wanted and saying "Here you go." KTM and KISKA are listening at every step of the way. Bean counters may always play a role in the final design spec in some way but I get the feeling KTM are more likely with this bike to say "To hell with the cost" and give us a model that mets our exact demands. The upshot of that is they will probably sell container loads of them!
As the reveal at EICMA 2018 nears closer, KTM are now pumping out more teasers like this one below that went live just a couple of weeks out from the event. This video is hard evidence of just how much KTM and KISKA were listening to Aussie customers back in 2016 as the "peoples bike" was being developed. It's great to see a few familiar faces here.
Are We There Yet? EICMA 2018
So while we've now seen the prototype bike in the flesh there are still many pieces of the development puzzle to fall in place. It's safe to assume we will see the production bike revealed in all it's glory at EICMA motorshow this year on November 8-11. The specs no doubt will be released too which will start to fill in the final parts of the story.
We've also been hearing rumours and seeing spy photos of a little 390 Adventure that may debut at EICMA as well. But that's a whole another story!
Following the timeline from other models we should then able to buy our very own KTM 790 Adventure R hopefully by the middle of 2019.
For some, this can't come soon enough and judging by the interest we've heard from our customer base, KTM will have a hot seller on their hands if it's meets expectations!
Conclusion
Am I excited about this bike? Does Toby Price know how to hold a 500EXC pinned? Of course I bloody am! While I love the globe-rotating grunt of my 1290 Super Adventure R, the reality is I would probably be far better off on something smaller and lighter for the harder off-road orientated riding I do and my average sized (read puny!) physique.
I think KTM and KISKA deserve a huge kudos for the effort they have put into developing this bike to suit a very difficult design brief. Many of our customers are talking about this bike and I will very interested to see just how many riders do commit to making the decision to purchase a 790 and change from another brand or "downsize" from a larger capacity KTM.
I am really looking forward to the 790's release next year and I'll bet the designers will then be able to breath a sigh of relief for a job well done. The irony is, they will most likely already be neck-deep on a new, as yet unknown, product set for public release in 4-5 years time. Roll on 2024!
*I preface all of what is written here as my own guesstimates and observations about this bike. None of this info is KTM official information so don't shoot me if any of it is wrong! I'm merely an interested "casual" observer.